Americana Highways
"Has a Manhattan Transfer-Squirrel Nut Zippers style – quite entertaining, great tapping too & vintage vocalizing Bette Midler & Bernadette Peters would smile at."
Twangville
"Lift You Up offers a collection of positive reinforcement lyrical messages and social commentary set to variety of musical styles in a cohesive fashion. I'm hard pressed to think of any musician or band with a mastery of as many different styles as The Scooches."
Woodsongs
""A fearless melting pot of rhythmic banjo, slide guitar fused with Gullah Geechee tambourines, beautiful female country lead singing and harmonized calypso vocalizations."
Elmore Magazine
"A heart as big as the sky…full of high energy and higher spirits"
John Platt (WFUV)
""A band that has to be seen to be believed."
No Depression
"Americana music at its purest and most impressive"
David Amram
"…an amazing group which a lot of us dreamed would happen some day where the different genres of music all get together…"
Enjoy links to recent reviews, interviews & podcasts on our Reviews & Fun Links page. Scroll down for past album releases and related press.
SCOOCHING MANY GENRES & CULTURES TOGETHER.
Americana, Indie Folk, Genre-Bending
An eclectic melting pot of original music inspired by world folk traditions, global Americana, New Orleans verve and the unfettered exuberance of the 1920s.
Led by NYC based Betina Hershey & multi-instrumentalist Nick Russo, The Scooches feature a world-class lineup of standout musicians from New York, Suriname, Sapelo Island (Georgia), Mexico, India, and the Caribbean. Elmore Magazine championed the group's "remarkable musical dexterity with songs that bask in a genuine roots regimen and a sense of timeless tradition" while Big Takeover Magazine best described their fluid convergence of minds, souls and cultures as "Not just music forged from myriad sounds and cultural styles garnered from genre and geography but the music of the world, about the world."VERY NEXT THING  #6 Album – International Folk 
VERY NEXT THING  #6 Album – International Folk DJ Chart (Sept 2016)
GET US OUT OF FEARLAND  #2 Album – International Folk DJ Chart (April 2018)
NEW ALBUM 
RELEASE TO RADIO JULY 1, 2023 & STREET DATE JULY 14, 2023
THE SCOOCHES "Lift You Up"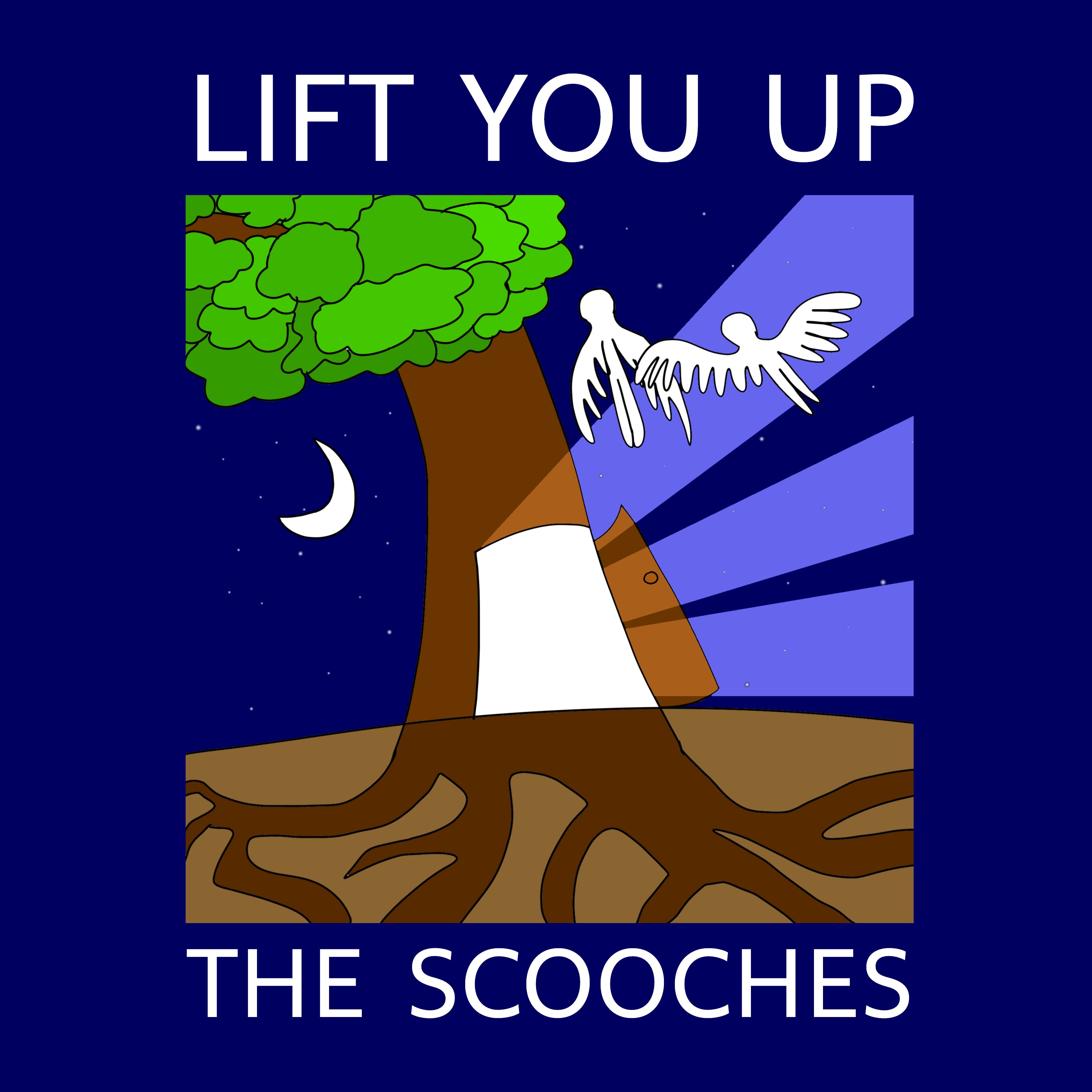 Acclaimed Global Music Collective THE SCOOCHES Announce Nutrimental 3rd Album 'LIFT YOU UP'
New York, NY: Global folk sensation The Scooches, led by vocalist Betina Hershey and multi-instrumentalist Nick Russo, have announced the release of 'LIFT YOU UP,' the celebrated group's third full-length album. 
In person, and on record, the NYC-based band, formerly known as Banjo Nickaru & Western Scooches, raise their voices, their instruments, their consciousness, with an eclectic melting pot of original music inspired by world folk traditions, global Americana, New Orleans verve and the unfettered exuberance of the 1920s.
Expertly helping with the lifting is a world-class lineup of standout musicians.
The new 12-song collection builds upon the exuberance that made 2018's 'Get Us Out Of Fearland' (#2 on the International Folk Alliance Chart) and 'Very Next Thing' (2016), a transcendent breath of fresh air.
Read more about our new album on the Lift You Up Album Release Page
RELEASED APRIL 1, 2023 – THE SCOOCHES "STOP THIS CLIMATE CHANGE"
The Scooches' urgent new single "Stop This Climate Change" arrived digitally  April 1st for Earth Day programming in advance of their third LP 'LIFT YOU UP'.DJs can access the single and assets on Airplay Direct.com/TheScooches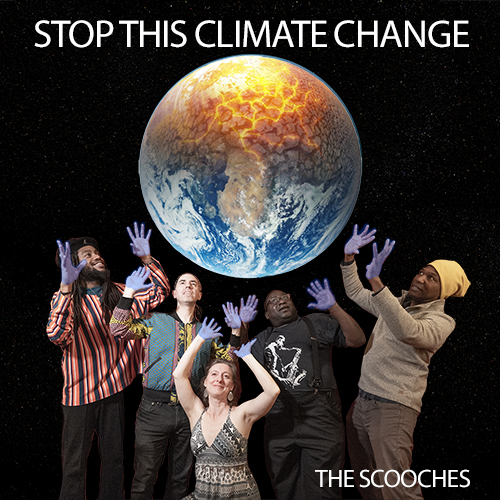 "Stop This Climate Change" is a poetic and uplifting call to action fraught with cataclysmic imagery of fire, ice, flooding, and the desire for change. The lyric "We've got to stop this climate and change" refers to the climate of helplessness and denial that surrounds climate change. Vocalist/composer/lyricist/performer Betina Hershey wrote the song about interpersonal relationships with each other, but also with Mother Earth, because, collectively, the human race must stop denying climate change. Featuring a stately co-lead vocal by the gifted Miles Griffith, and spiritually-elevated musicianship by multi-instrumentalist Nick Russo, the excursion concludes with a passage of thought-provoking spoken word by Brooklyn rapper Ra$h Ca$h as a hypnotic Indian-influenced outro propelled by Aditya Phatak (tabla), Mamadou Ba (bass), and Harvey Wirht (drums) carries strength to the promised land. The uplifting vocals, harmonies, rhythms, instruments, and visceral message combine into a bold, and jubilant, declaration of unity. Climate change is not irreversible. Together, we can, and will, make a difference.
"Our goal for this song is to inspire people to roll up their sleeves and take action. The purple hands on our album cover symbolize the magic that comes with hard work! We recycle, compost, use compostable garbage bags, and bike or walk whenever we can. We can't afford to deny our impact on the Earth. Let's come together and truly believe we can create positive change," says Hershey.
A portion of the proceeds generated from the single will benefit the Sierra Club, the most enduring and influential grassroots environmental organization in the U.S., one whose purpose is to defend everyone's right to a healthy world. Purchase the single on Bandcamp.
PDF One Sheet Stop This Climate Change with Lyrics
Read more on the Stop This Climate Change Release Page
The Scooches sophomore album, Get Us Out Of Fearland (out under Banjo Nickaru & Western Scooches) :
#2 album, #2 artist, #5 song with 6 of our songs in top 20 on the International Folk Music DJs Radio chart!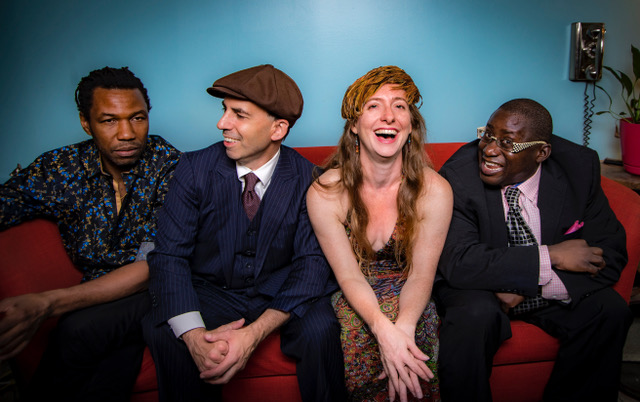 San Diego Troubadour
"…it's unlike anything most listeners will find elsewhere."
Rambles
"It underscores, too, how sounds from another time can be renewed and re-imagined, by creative minds and right hands, in the present moment. Banjo Nickaru & Western Scooches are ridiculously fun."
London Times
"Unfailingly high-spirited."
London Times 
"There's no point in trying to pin a label on an extrovert American band, led by guitarist, Nick Russo, who set out to cover so many bases from hot jazz to folk, blues and Big Easy funk…. unfailingly high-spirited. Purists will hate it. Everyone else will have a good time"
The New York Music Daily
"…their sound is totally retro – yet completely in the here and now, another case where the old is new again"
New York City's chart-topping band electrifies audiences with an eclectic mix of Roaring '20s, Global Folk, blues, gospel, New Orleans jazz, Americana, and more. Curated sets of toe-tapping, hand-clapping music leave audiences with no choice but to dance along. The Scooches' performances are like master classes in musicology that quite simply embody joy and excellent musicianship.
One of the only groups to bring a Gullah-Geechee element into the folk world. The band also plays folk, country, 20s/30s, music of New Orleans, blues, old-time music, and roots music.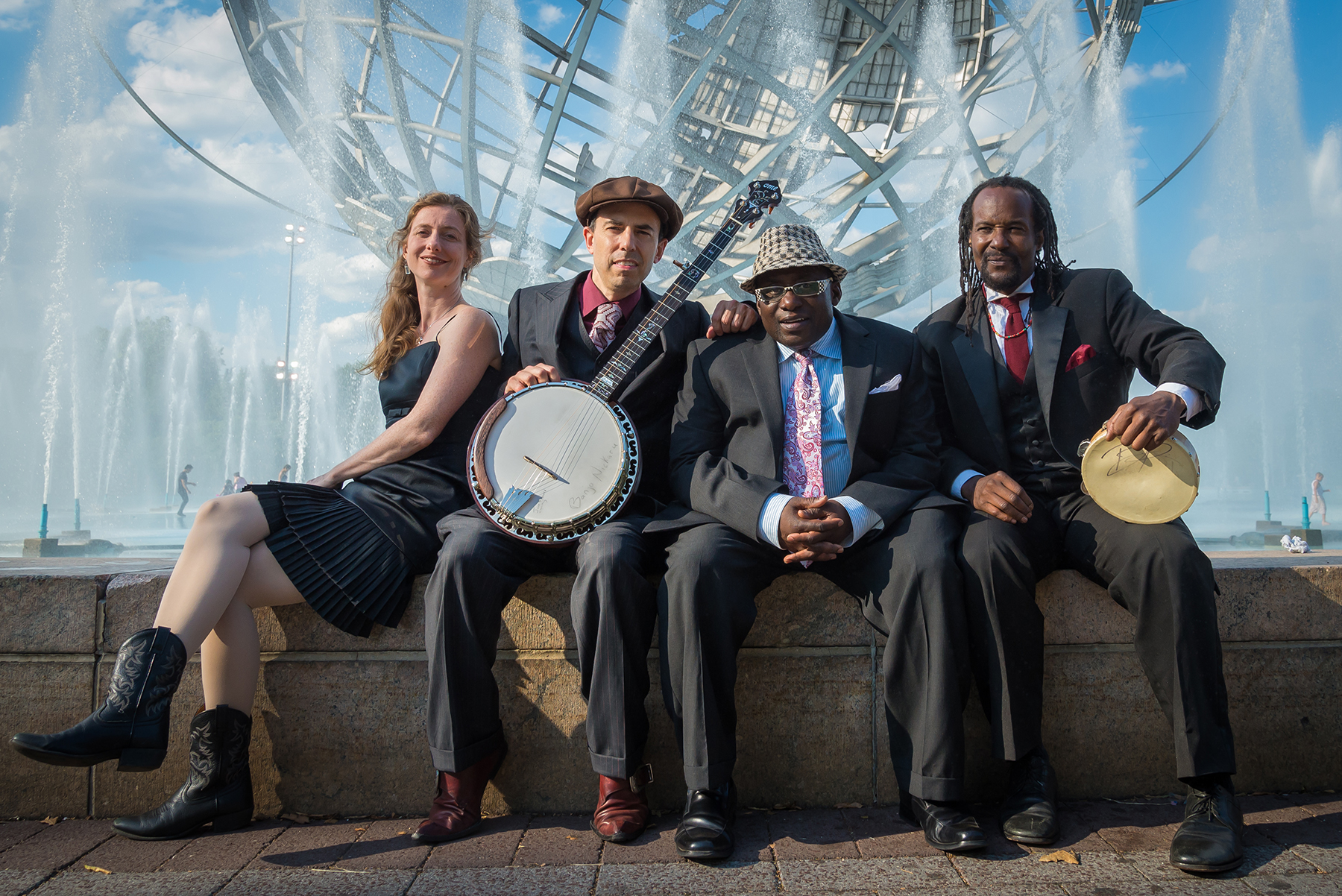 The Scooches Bios:
Nick Russo leads the charge as bandleader, playing an assortment of fretted instruments, including banjo, resonator, guitar, electric bass plus organ, Rhodes and harmonium. Russo had the honor to play with Sir Paul McCartney while performing at Gwyneth Paltrow and Chris Martin's home. Nick has performed on ABC's "Good Morning America" and appears in the Sam Mendes film Away We Go and PSB Masterpiece, The Chaperone. 
Betina Hershey (vocalist, guitarist, composer) has appeared as a principal dancer in Disney's Enchanted and Mona Lisa Smile with Julia Roberts. Hershey performed on international and national tours of Broadway shows including "West Side Story" and "Phantom of the Opera." Betina's in-demand original children's musicals have been published and continuously performed nationally and internationally. 
Miles Griffith's non-traditional use of the voice as a percussive instrument, combined with an uncanny harmonic sense, rounds out the band beautifully. He is a composer and has performed with Max Roach, Reggie Workman, T.S. Monk, Barry Harris and others. He played the lead role in Wynton Marsalis' jazz oratorio "Blood On The Fields," which premiered at Lincoln Center's Alice Tully Hall. 
Harvey Wirht (drums/percusstion) has performed alongside Grammy Award artist Angelique Kidjo, appeared on the Jay Leno Show, the Late how with David Letterman, the NAACP awards, Good Morning America, and the Peace Ball for the Inauguration of President Obama. He has also performed at the Kora Awards with Best East African Artist Winner Eric Wainaina and Lionel Loueke. He tours internationally with renowned world music artists, and with his own musical projects.
Gullah-Geechee percussionist and composer – Dr. David Pleasant has performed with Wynton Marsalis, Paul Simon, Cecil Taylor and many others. David also performed on Nickelodeon, TED talks, ABC with Ted Koppel, Broadway, and all around the world. 
Ra$h Ca$h (rap/trombone –  Rashaan Salaam) is originally from an island in the Caribbean known as Trinidad & Tobago, initially influenced by calypso and soca music, his people's' culture. His first real taste of the Jazz Scene was participating in the Essentially Ellington National Jazz Competition, being around hundreds of musicians from many different backgrounds and cultures who all played so well. He is currently attending the Juilliard School.
Angela Workman (gospel vocals) is known as the Funk Balladtress. She has sung throughout the world with Ray Charles, Ben E. King, Patti La Belle, B.B. King, George Clinton and Parliament Funkadelic. Gospel performances include singing with International Choir of Harlem, NYC Rescue Mission, Redeemer Baptist Church NYC, and at Rockefeller Center. You can hear her on TV, Film, albums such as Prince's "Soul Psychedelic", Eminem's "Infinity" and many more. Her original global infused compositions and standard renditions are full of soul. Her goal is to change the world one note at a time.
Emiliano Valerio (cajón/percussion) is a highly regarded musician who studied Afro-Cuban percussion at La Escuela Nacional de Arte in Havana, Cuba before further  training with Puerto Rican jazz great Giovanni Hidalgo. He also founded Nueva Siembra, a 15-piece Latin band, composed Jackson Heights Suite, for string quartet, was musical director/percussionist/guitarist for the OBIE Award winning Off-Broadway show Tap Dogs, and is a tabla disciple of virtuoso Pandit Samir Chatterjee.
Russell Hall (bass) Born in Kingston, Jamaica, Russell Hall began his journey as an actor from the tender age of 3. Performing in Jamaican adaptations of popular musicals to serious prose, he was destined to take the stage. Everything changed when he migrated to the United States in 2007. Under the tutelage of The Commodores, he discovered the bridge between the world of drama and the world of music. He progressed quickly from the electric bass to the double bass through the rigorous programs of The Dillard Center for the Arts and The Juilliard School. Now, he is revered as one of the most in demand artist in New York City, performing with some of the biggest names in music, dance and film. His work is featured on the Grammy nominated album "My Favorite Things" by Joey Alexander, "Motherless Brooklyn", a film by Edward Norton which was nominated for a Golden Globe for Best Score, and HBO's "Masterclass Series" which feature Wynton Marsalis as a master teacher which was nominated for an Emmy. Russell's own work has been acknowledged with prestige in some of the most renowned venues and festivals around the world such as The Appel Room, The St. Lucia Jazz Festival, The Apollo, The Marciac Jazz Festival and many more.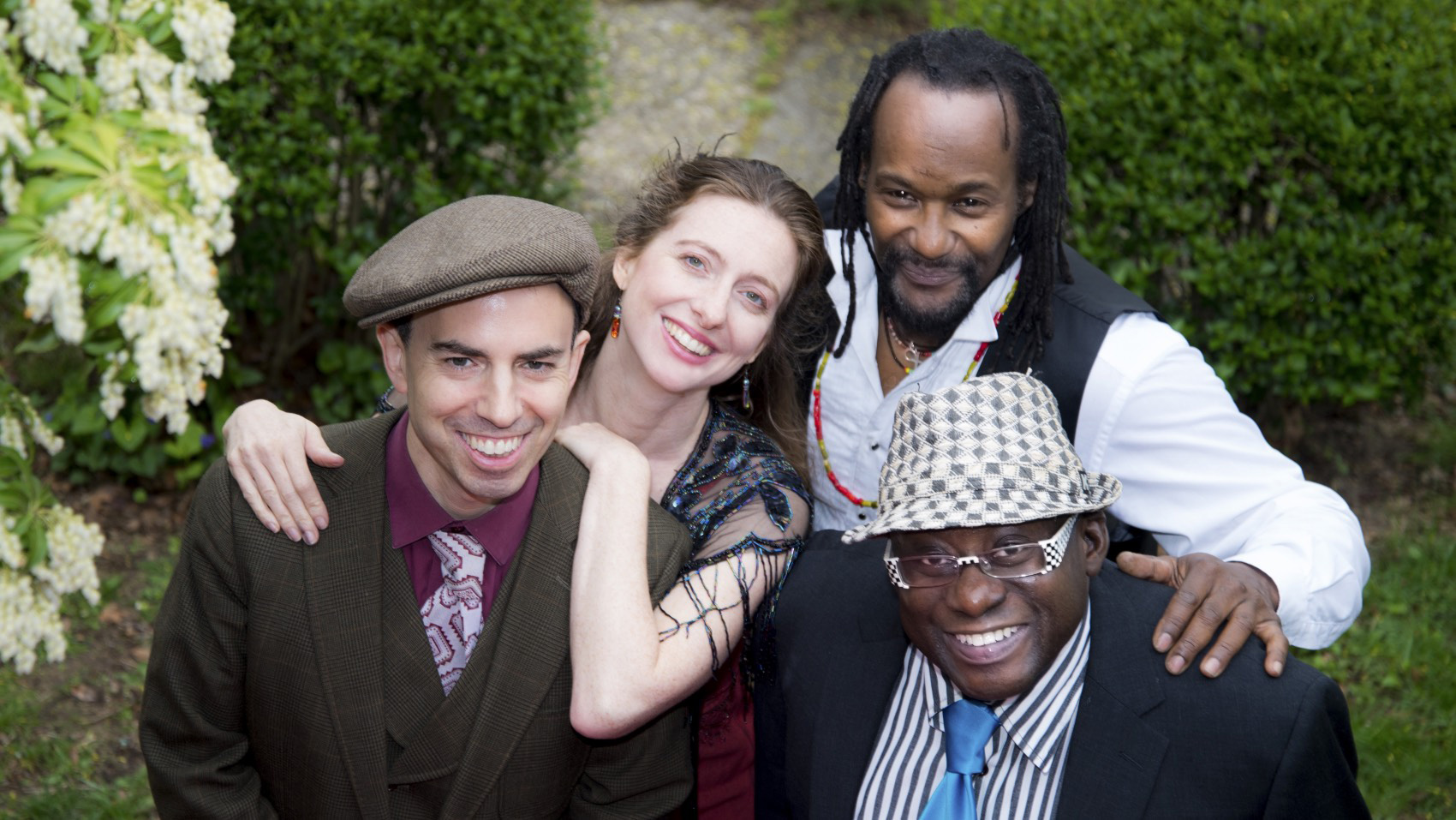 The Scooches Get Us Out Of Fearland Songs & Stories:
Highlights of Get Us Out Of Fearland include the playful 1920s verve of "I Don't Need No Glasses," the warm lilting embrace of "I Wish The World Knew Why," the organ-driven, gospel-tinged "Dandelion" (featuring special guest singers Stephanie Rice and Charenee Wade), and "Soar," an inspirational song filled with optimism, determination, and perseverance. These qualities sail skyward throughout the 25-minute journey, but none more so than on the boisterous groundbreaking title track, Get Us Out Of Fearland, which features improvisational vocalist Miles Griffith, known for his work with Max Roach, Paul Simon, and Reggie Workman, plus percussionist/vocalist, Dr. David Pleasant, a singular talent who has performed with Wynton Marsalis, Cecil Taylor, and Paul Simon.
"We picked 'You Are My Sunshine' because my Mom used to sing it to me, and I just loved singing harmony with her. She died 3 weeks after we Nick and I married and she has had a huge influence on my musicality since she loves country, bluegrass, and so many genres of music," said Betina. "She sang to me all of the time, and now I get to sing to my kids all of the time, too. They're 5 1/2 and they were singing this song to me the other day as we walked home from school… I just loved that!" 
"The song 'I Don't Believe in Love' is a saucy flirtation of a song. I do believe in love, but it puts all kinds of pressure. Since we were having so much fun together, maybe we should leave the 'love' pressure out of it," said Betina. "And by the way, we didn't get married in Spain, but we did have a musical honeymoon there." 
"It was obvious to us that Elizabeth Cotten's 'Freight Train' was going to be our first track," said Nick. "The vibe Betina creates with this tune with my added slide fills and David's harmonica playing creates our sound. By all means, we are not only inspired by Elizabeth Cotten's piece, but the way she sings and plays guitar on her version, it's certainly a masterpiece and part of our African American heritage." 
Downbeat****
"Nick Russo has worked with artists all over the jazz spectrum. His latest release brings a decidedly unorthodox approach."
The Classical Arts
"Fresh and vital…. This slice of sumptuousness, replete with oodles of Prohibition Era cakewalks, spans the gamut from jazzbo flapper dance tunes and traditional folk hoots'n'hollers to Crescent City craziness, Fats Waller (Ain't Misbehavin'"), gospel ("This Little Light Of Mine"), Elizabeth Cotton ("Freight Train") and the kind of honeyed originals that makes one move and tickles one pink. This, then, is the Very Next Thing"

No Depression
"Ultimately, this is Americana music at its purest and most impressive, making it indeed a lesson for the learning."

DownBeat Magazine ****
"… As a sideman, he's worked with artists all over the jazz spectrum, from Jimmy McGriff to Mark Turner to Vince Giordano. It should come as no surprise that for his latest release… Russo and his band (vocalists Betina Hershey and Miles Griffith, with percussionist David Pleasant and numerous guests) bring a decidedly unorthodox approach"
"Since the 1923 hit The Charleston, and the folk standards of Porgy and Bess, the American sound has benefited from a good dose of Gullah-Geechee culture. The Scooches have established a unique connection to the Drumfolk spirit of Gullah-Geechee culture."
David Pleasant