We have been working hard and are so excited to share some of the press! Here are just a few…
Here's the post about all our Radio Interviews in July
Check out our Lift You Up Album
Read our blog about what we care about.
Lift You Up Press
Twangville
"Lift You Up offers a collection of positive reinforcement lyrical messages and social commentary set to variety of musical styles in a cohesive fashion. I'm hard pressed to think of any musician or band with a mastery of as many different styles as The Scooches." – Shawn Underwood, Twangville
Read the whole review here.
Americana Highways
"Lift You Up," with a warm island reggae-like melodic drive with Hershey's tight folky tone. It's as if Joni Mitchell were backed by the Wailers or the Maytals" – John Apice, Americana Highways
"What's Meant To Last Will Last," has a Manhattan Transfer-Squirrel Nut Zippers style – quite entertaining, great tapping too & vintage vocalizing Bette Midler & Bernadette Peters would smile at." – John Apice, Americana Highways
Enjoy reading the full album review in Americana Highways
V13 Review
"Tinted with Spanish flavours, "Open A Door" allows Hershey to strut her silky-smooth, lustrous voice."- Randy Radic, V13
"A personal favourite because of its drifting, old-timey country motion, "Leavin'" conjures up memories of Patsy Cline, full of bluesy melancholy and nostalgia." – Randy Radic, V13
Read the full V13 Album Review
JWVibe
"The Scooches' equally delightful, rousing but often pointed and socially conscious new collection."
"The 12-song set is a fascinating journey showcasing grand, singalong style songwriting and arrangements and the towering collective talents of Russo, Hershey, and their grand ensemble of skilled, totally game musicians."
"The raspy, guttural voiced Miles Griffith… and Brooklyn rapper Ra$h Ca$h, whose dynamic flow on 'Stop This Climate Change' brings a contemporary urgency to the overall message."
Read the whole review here
AltRoot
"It's a sound spawned from both spirit and soul, making Lift You Up consistently true to its title."
"Hershey, who had a hand in writing all the original tunes, sets the tone throughout, her expressive vocals at the fore commanding immediate attention."
"Russo's fretwork is, as always, both supple and exacting. A masterful guitarist whose efforts extend to banjo, keyboards, and bass."
"Their bold, brash and frenzied double take on the traditional spiritual, 'Ain't Gonna Let Nobody Turn Me 'Round', the latter a further connection to sounds of a vintage variety."
"There's also plenty of honest emotion imbued here as well, particularly in the quiet caress of the album's three soulful ballads, 'Leavin'', 'Run', and 'Open A Door'."
Read the whole review here
Deep & Fun Dives Into The Scooches
Betina is featured in Guitar Girl Magazine with an interview.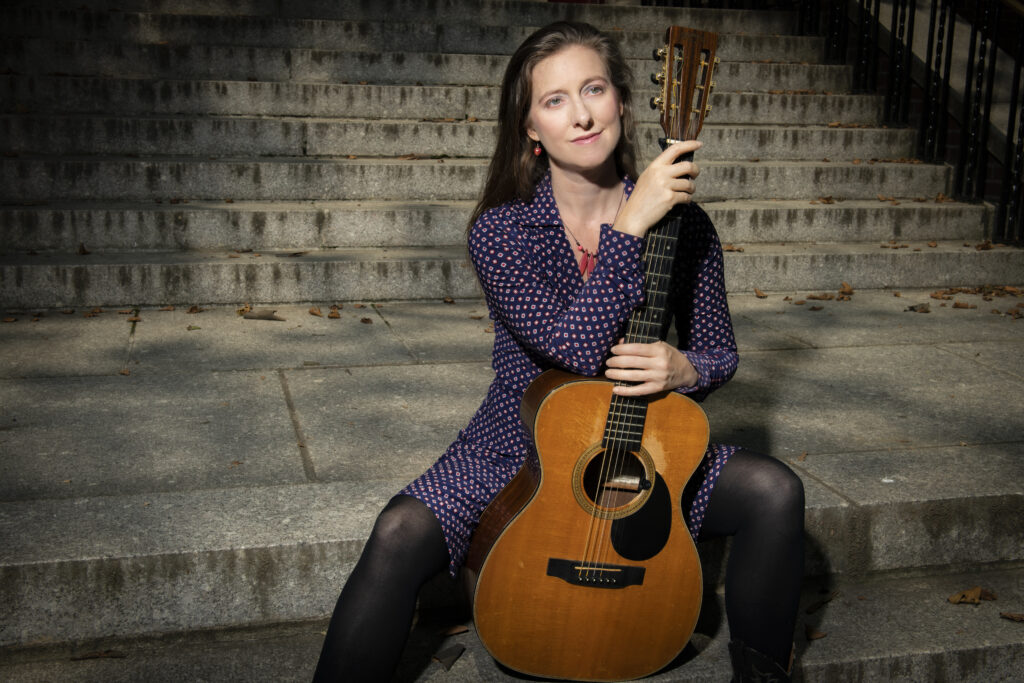 20 Questions (answered by 6 of The Scooches) on Tinnitist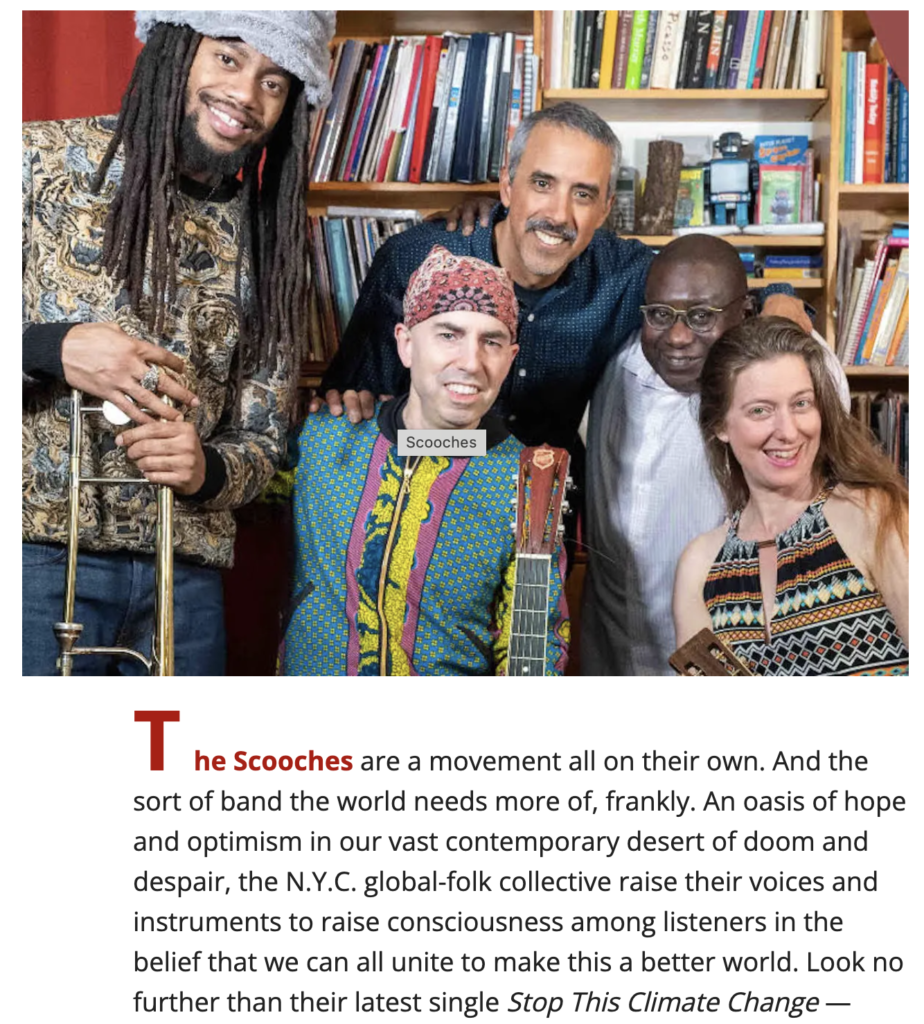 In a Mississippi Minute Podcast Interview with Steve Azar
Top 10 videos Video Premier of "Give It To Me Real" on Alt Root (7-2-23)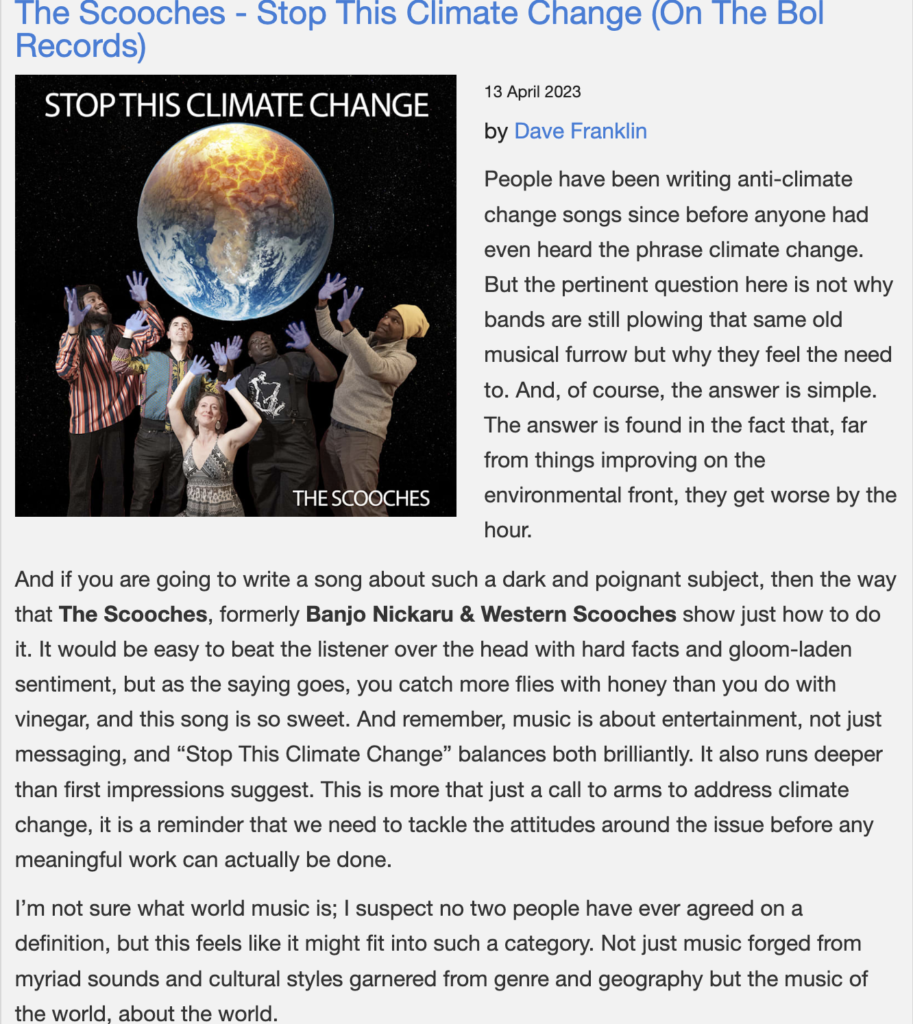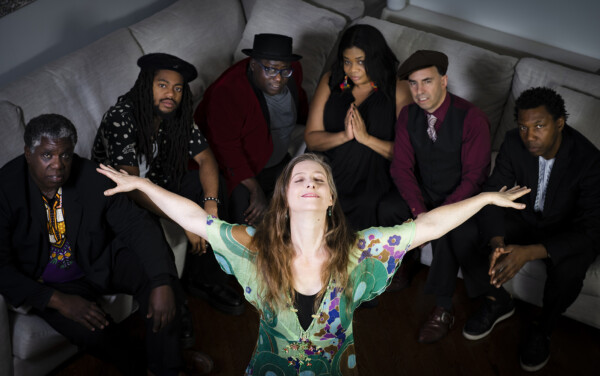 Get Us Out Of Fearland – Album
Press
Elmore Magazine "A heart as big as the sky…full of high energy and higher spirits."
Rambles "One marvels at the sonic wonder of it all, and only after a few hearings does it dawn on one that two of these, one the title tune, are for all their apparent merriment serious protest songs."
Woodsongs ""A fearless melting pot of rhythmic banjo, slide guitar fused with Gullah Geechee tambourines, beautiful female country lead singing and harmonized calypso vocalizations.""
Americana Rhythm Music, AntiMusic , Aquarian Weekly, Blog Critics, Country Standard Time
Very Next Thing – Album
Press
San Diego Troubadour Hershey's "I Don't Believe in Love" full of double entendre and good humor, is the best track here. While the disc is full of elaborate arrangements, the band sounds best when just guitar, banjo, and Hershey's arresting vocal takes on a classic like "Ain't Misbehavin'." Tracks like "Freight Train" and "Sweet Georgia Brown" are mostly notable for Hershey's clear-as-a-bell swing jazz vocals.
Acoustic Live (cd reviews are at the bottom of the page) "This album is an intriguing mash-up of old-timey, bluegrass and banjo-driven Dixieland, with even a touch of Calypso thrown in. If you like high-intensity, upbeat versions of standards, this is for you." Richard Cuccaro, Acoustic Live!
No Depression "Ultimately, this is Americana music at its purest and most impressive, making it indeed a lesson for the learning."
Classical Arts "This slice of sumptuousness, replete with oodles of Prohibition Era cakewalks, spans the gamut from jazzbo flapper dance tunes and traditional folk hoots'n'hollers to Crescent City craziness, Fats Waller (Ain't Misbehavin'"), gospel ("This Little Light Of Mine"), Elizabeth Cotton ("Freight Train") and the kind of honeyed originals that makes one move and tickles one pink. This, then, is the Very Next Thing "
Downbeat "Nick Russo has worked with artists all over the jazz spectrum. His latest release brings a decidedly unorthodox approach."
No Depression "Ultimately, this is Americana music at its purest and most impressive, making it indeed a lesson for the learning."
DownBeat Magazine "… As a sideman, he's worked with artists all over the jazz spectrum, from Jimmy McGriff to Mark Turner to Vince Giordano. It should come as no surprise that for his latest release… Russo and his band (vocalists Betina Hershey and Miles Griffith, with percussionist David Pleasant and numerous guests) bring a decidedly unorthodox approach"
We have been working hard and are so excited to share some of the press! Here are just a few…