Wow! We are deeply lifted up, deeply thankful! Our album Lift You Up tied for #1 album on The July 2023 FAI Folk Chart! 
Thank You Fans, Community, and Roots and Folk DJs
The Scooches extend heartfelt gratitude to our fans, community, and the dedicated folk and roots radio programmers who've been spinning our album "LIFT YOU UP". Thanks to your support, we're elated to announce our achievement of reaching the #1 Album position (tied with Eliza Gilkyson's wonderful new album "HOME") and the #2 Artist spot on the Folk Alliance International Chart for July 2023. Among the standout tracks, our rendition of the iconic protest anthem "Ain't Gonna Let Nobody Turn Me 'Round" holds the #4 song position, our original track "Lift You Up" holds the #6 spot, and "Let's Grow Our Roots Deep And True" lands at #11. As if that wasn't enough, we've also clinched the #1 Album and #1 Artist positions (shared with Eliza Gilkyson) on Richard Gillmann's July Folk Chart, featuring a total of 4 top songs.
This accomplishment resonates deeply with us, and we're overjoyed by the unwavering support of our wonderful fans and fellow music enthusiasts. It is your belief in our music that has propelled us to this pinnacle.
We strongly believe in music's ability to elevate one another, and this achievement is a testament to that connection with the earthy essence of humanity. Your belief in our music has made this milestone possible, and we extend our heartfelt appreciation to each of you who have joined us on this journey. 🌍🌱🎵
If you haven't yet experienced the magic of "LIFT YOU UP", we invite you to take a musical voyage with us: [Link to Lift You Up Album] 🎧🔗 Your continued affection and backing are the driving forces behind our journey, and we're genuinely humbled by your embrace of our rendition of the timeless track "Ain't Gonna Let Nobody Turn Me 'Round" (#4 song). 🎤🌿
Join us in commemorating this momentous achievement by immersing yourself in a special live performance from Queens, NYC: [Link to YouTube performance] 🎥🎤
We want to express our deep gratitude for being part of our musical family and for contributing to our ascent, grounded in our profound connection to the Earth. 🎶🌎🤗
For those curious to explore the full chart, here's the link to The FAI Folk Chart for July 2023.
If you're yet to groove to our tunes, now's your chance!
🔗 Listen to the Album: Lift You Up
Tune in, add some beats to your cherished playlists, and don't hesitate to reach out to us with your thoughts and feedback. We're eager to connect with you! 🎧🎤
🔗 Listen and Connect: https://bio.link/thescooches 
Here's our Impactful #4 Song
We're deeply honored by the warm embrace of our rendition of the vital and powerful song, "Ain't Gonna Let Nobody Turn Me 'Round". This energy is palpable, particularly in our live performances, such as this one in Queens, NYC.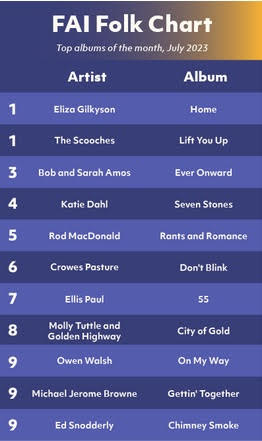 DJs/Radio Stations Who Played The Album July 2023
Art Menius (WMMT, NC) "The Revolution Starts Now"
Artie Martello (WIOX, NY) "The Catskills Cafe" 
Arthur & Andrea Berman (CiTR, Canada) "Pacific Pickin'"
Barb Trumpinski-Roberts ( WEFT. IL) " I Can Hear Music"
Bob Heyer (WEJP, WV ) "Feeling Alright"
Bob Weiser (WOMR, MA) "The Old Songs Home"
Brother Al (WERU, ME) "Morning Maine"
Bruce Cameron (2MCE,Bathurst, AU) "Come All Ye"     
Carolyn Vandewiele (WFHB, IN)  "Roots For Breakfast",
Chad Robert  (WFHB, IN )  "Off The Charts"
Cliff Furnald WPKN, CT "No Name
Chris Joseph (WSPN, NY) "Simpatico"
Chris Kocher (WHRW, NY) "The Signal"
Colin Fielding (3INR, VIC, AU) "Folk n Roots"
Dan Alloway (KTEP, TX) "Folk Fury"
Denis Howard (WERU, ME) "Morning Maine"
Diane Crowe (WMCB, MA) "Music of the People"
Gordon Nash (Folkmusicnotebook.com) "Gord's Gold"   
Graham & Barbara Dean (WBCR-lp,  MA) "Common Sense Songs"
Harlon Joye (WRFG, GA)"Fox's Minstrel Show"
Jack Dugan (WIOX, NY) "Folk Odyssey"
Jan Vanderhorst ( justusfolk.com, Canada) "Just Us Folk"
Jim Marino (CFMU, Canada) "Freewheeling Folk Show"
Jim Sereda (WUSB, NY) "The Spin Zone"
Joe Pszonek ( folkmusicnotebook.com) "The train Wreck" & "Radio Nowhere Worldwide"
John Drake (KVSC, MN) "Diversions"
John Prusinski (WBCR-lp,MA)  
Jon Stein (WTBQ, NY,  Bellbucklerecords.com) "Hootenanny Cafe'"
Jeanne Holton (WMNF, FL) "Acoustic Peace Club"  
Jenny Flux (2bbbfm, AU) "Grassroots Replant"
Justin Helmer (KVSC, MN) "Frets"
Ken Cartwright (KMUZ, OR) "Ken Til Ten"
Ken Nagelberg (WHYR, LA) "It's For Folks"
Kevin Elliot (WEFT, IL) "From the Joshua Tree Inn"
Lilli Kuzma (WDCB, IL) "Folk Festival"
Mara Noelle (KVMR, CA) "Click your Heels Together"
Marc Albert  (KMUZ) "Americana Alley"
Mark Pedersen (WOJB, WI)  "Folkways"
Mary Anne Moorman (KBCS, WA) "Sunday Folks"
Michael Alzo (WSLU, NY) "The Folk Show"
Mike Regenstreif (CKCU, Canada) "Saturday Morning with Mike Regenstreif"
Nick Noble (WICN, CT) "Folk Revival" 
Paul Hartman(WTMD, MD) "Detour"
Randell (KYAC, AK) "Kitchen Sink"  
Richard Gillmann (KBCS, WA) "The Real Folk"
Robert Resnik (Vermont Public Radio, VT) "All the Traditions"
Ron Cooke  (KTAL, NM) "Music They Don't Want You to Hear" 
Ron Olesko (WFDU, NJ) and folkmusicnotebook.com) "Traditions" 
Rusty and Jan (WPPM, PA) "Philly Folk Scene"   
Steve Brockway (KRFC, CO) "The Folk Show"
Sue Kessell (WNUR, IL) "Folk Show"
Taylor Caffery (WRKF, LA) "Hootenanny Power"    
Tim Sweeney (KAOS, WA) "Tuesday Breakfast Special with Sweeney" & "Thursday Happy Hour"
Tim Cahill (WCSB, OH) "Timmie the Hippies Folk Show"
Todd Tyson (WFVR, VT) "Greetings From…"
Tom Funk  KGLP, "Green Chile Revival and Medicine Show"    
Tracy Myers (KSER, WA) "The Sunlit Room"
Wanda Fischer (WAMC,NY) "Hudson River Sampler"
We hope we didn't miss anyone! Please let us know, and we'll add you to this lift you up list!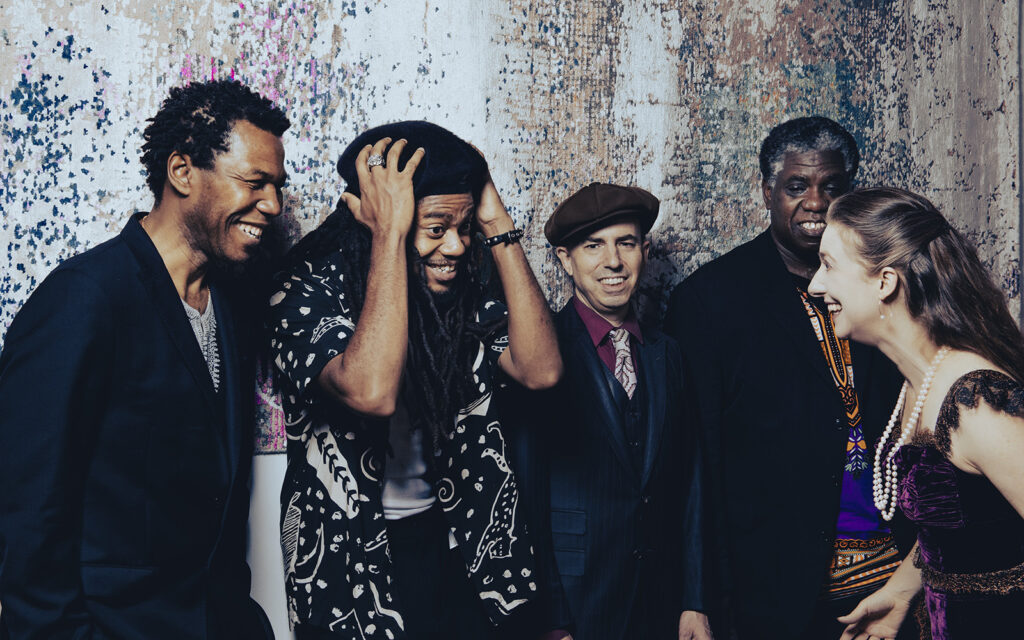 We can't thank each of you enough!